All Games: How to redeem Facebook Gift Cards
This article will show how to redeem your Facebook Gift Card to your favorite Zynga game. To redeem your Facebook Gift Card follow these instructions:

1. Visit the Redeem Tab in the game.
2. Click on the Redeem Tab or Link:
Note: The game card link appears in different places, depending on the game.
Below are screenshot that display the Redeem Tab for "The CoasterVille."
Scratch the grey box to retrieve your PIN Code on the back of the Facebook Gift Card.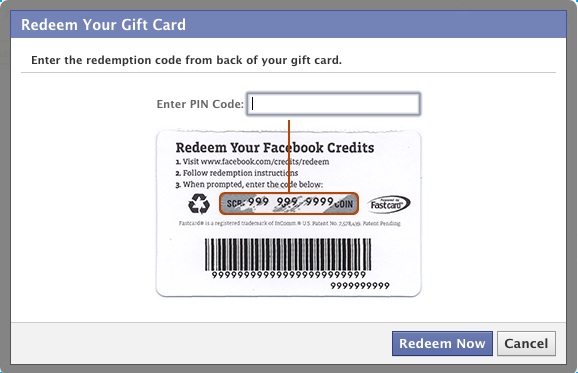 3. Enter the redemption PIN code on the back of your gift card in the "Enter PIN Code" field in the pop-up box
4. Choose the currency desired that is available to your game.
WARNING - If you do not see your game in order to redeem your pin, please select the "Facebook Credits" option and redeem the Facebook credits on the " Get Coins and Cash" tab of your game.
5. Please Note: You may have to wait up to 4 hours after the redemption of your Game Card. You will not be able to use the card again after redeeming on your account.
Still have a question about your redemption? Please contact Zynga Customer Support at: http://support.zynga.com or call 1-800-762-2530 24 hrs / 7 days a week!